Firmware upgrade on ZoneDirector via WebGUI
Summary
Procedure to perform firmware upgrade of ZoneDirector using WebGUI.
Question
How do I upgrade ZoneDirector to the latest firmware, using the WebUI?
Customer Environment
ZoneDirector not running on latest version.
Resolution
Latest firmware info is available at Ruckus Wireless Support website at 
https://support.ruckuswireless.com/
Choose PRODUCTS, and the ZoneDirector (ZD) Product Family box.
ZD1200 and ZD3000 have listed Recommended Firmware version, and pages for Technical Documents and Software Downloads.
(ZD1000 and ZD5000 are found under EOL Ruckus Products page: 
https://support.ruckuswireless.com/product_families/4-eol-products
)
Click on Software Downloads link to the right of the ZD product page. You will find:
1. All the available firmware versions
2. All available SNMP MIBs and any AP or security patch bundles.
3. Each Software Release Firmware download page has a link to Release Notes under "Documents" that goes into specific details on Supported AP Platforms and Upgrade Paths, Enhancements and Resolved issues, and Client Interoperability information.
Note:
 Please ensure you have an active support contract on the ZoneDirector in order to download the firmware.
Once you decide on the firmware version to use, download the file to your local machine.
- Login to the ZD and go to the Administer > Upgrade page.
- Click on the "Choose File" and browse the downloaded firmware file.
- ZD will prompt you to backup the current configuration.
- If you don't have the most latest backup, say "Yes" to this before proceeding with ZoneDirector upgrade.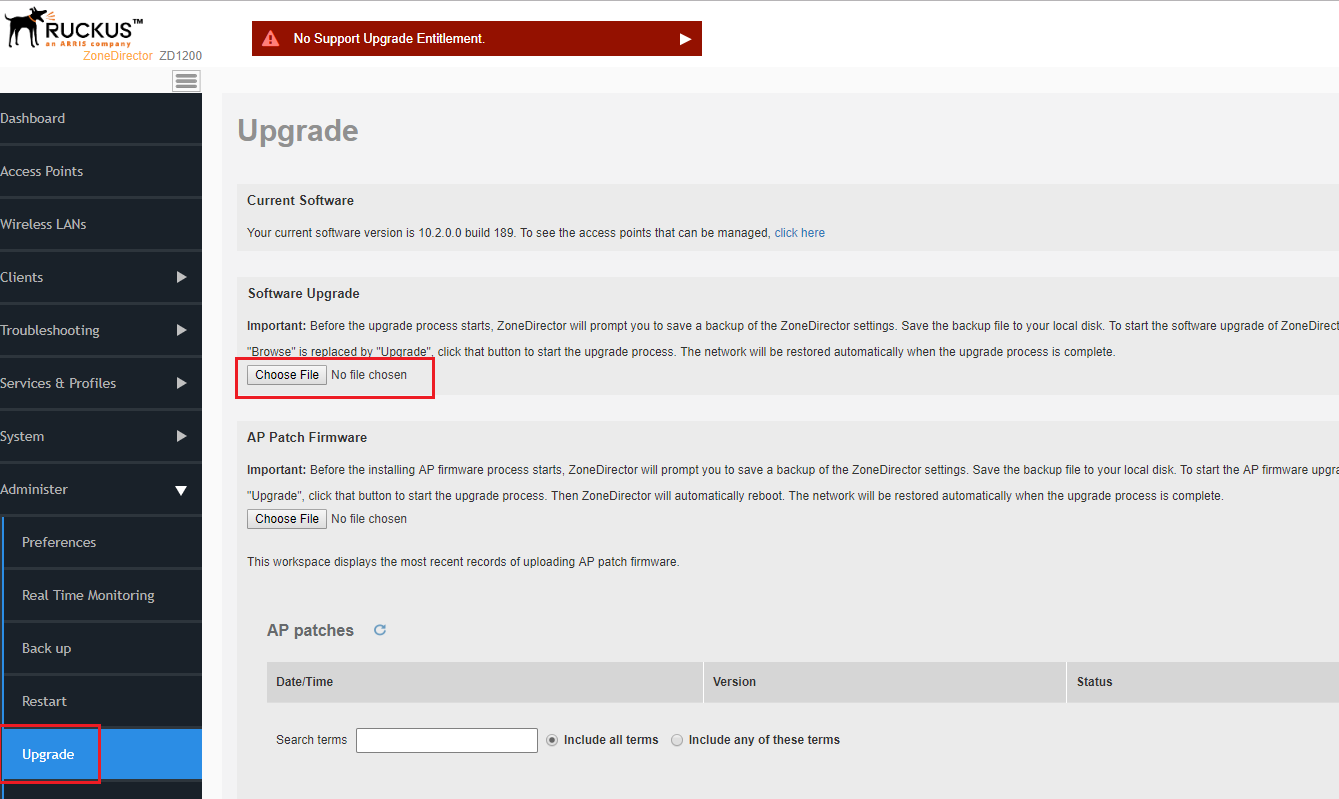 - Upgrade can take anywhere from 15-20 minutes depending on the ZoneDirector model, and amount of configuration you have. 
- Once the ZoneDirector is upgraded, firmware upgrade will be pushed to all ZD managed APs (so there is really no separate upgrade action required for APs). 
This in turn can take another 15-20 minutes depending on the number of APs this network has and the model of APs.
DO NOT DISCONNECT OR POWER OFF THE ZD DURING ANY PART OF THE UPGRADE PROCEDURE.
----------
Notes:
1. If you are on one of the very old ZoneDirector firmware, please follow the suggested upgrade path explained in the Software Release you wish to upgrade to. Upgrade to the minimum required version (and perhaps further back) if you are on older than directly upgradeable versions.
2. If your setup includes two ZoneDirectors in a SmartRedundancy mode, please follow the upgrade procedure explained in
KBA-1374: Firmware upgrade in smart redundancy setup
.
---------- 
"For more information on this topic—including video tutorials—visit the Ruckus Support How-To Hub at https://support.ruckuswireless.com/how-to-hub."
Related Articles
KBA-1374: FW upgrade in smart redundancy KBA-1845: Recommended FW and suggested upgrade paths for ZD