Whitelisting Ruckus Cloud Controller IP addresses for Access Point connectivity
Summary
These are the IP addresses and URLs that need to be added to Firewall/Content Filters, that will allow Ruckus Access Points to access the Ruckus Cloud WiFi Controllers to successfully connect to cloud controller.
Question
What IP addresses do I need to add to my Firewall or Content Filter for the Ruckus Cloud WiFi?
Customer Environment
Firewall, Content Filter. EU, NA
Root Cause
After an upgrade or change in controller public IP address range, Ruckus Cloud WiFi Access Point will not connect to Ruckus Cloud WiFi Controller and will show up in the Cloud user interface as "Never contacted Cloud". The AP will continue to service clients as it will still be connected to the previous version controllers.
Resolution
Please add the following FQDN's and IP Addresses to your Firewalls or Content Filters to allow your Ruckus Access Points to connect to the Ruckus Cloud WiFi Controllers.

For All Regions:
ap-registrar.ruckuswireless.com
OCSP.ComodoCA.com
cloud.ruckuswirless.com
cloud-eu.ruckuswireless.com
 

Cloud Controller public IP addresses as of 1805 version:

For the North America Region:

34.66.82.169

35.225.236.82

35.193.119.3

35.225.236.82

146.148.60.5

34.68.248.217

For the European Region and rest regions:

35.242.215.12

35.246.193.51
 

Cloud Controller public addresses as of 20.01 version:

34.66.162.64/27

34.89.230.64/27

34.92.234.64/27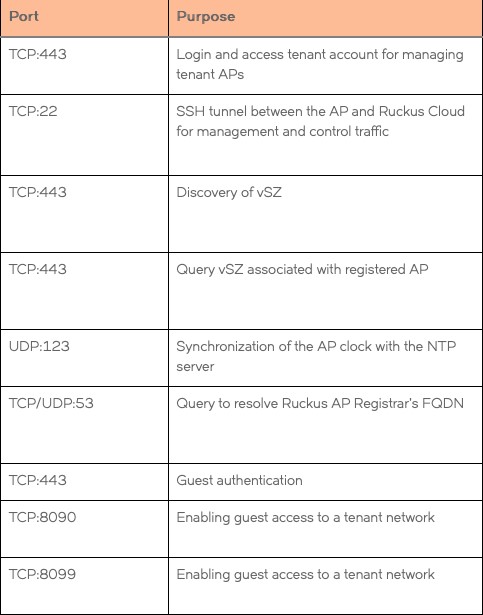 Note: IP addresses may change due to new controller addition, hence please contact Ruckus support, if you are still facing issues to connect your APs to Ruckus Cloud WiFi controller.